40 Gallon, Natural Gas, Direct Vent-to-Chimney with a 9-year Richmond Factory warranty starting at $1,400 with parts and labor. Contact us today for more information.
A-1 Affordable Electric & Plumbing specializes in the installation, replacement, repair and service of water heaters. If you're not getting consistent hot water on-demand, give us a call to diagnose the problem and provide the solution.
Whether it's a whole-new unit an upgraded model or repairs, we'll have you back in a hot shower in no time at all!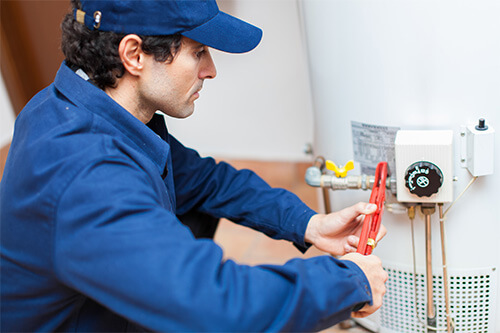 New water heaters:

Building a new home? Call us for the water heater installation in Rockford, IL. We'll get your new development outfitted with a quality water heater that's the proper size and capacity for the dwelling. We install water heaters from all the industry's best brand names, both gas and electric models. We'll ensure a seamless integration into gas, electrical and plumbing systems.

Replacement water heaters:

If your water heater just isn't providing you with consistent hot water, it might be time to upgrade to something better. We provide replacement water heater installations, disposing of the old one and ensuring your new one is functioning perfectly. Allow us to outfit you with a direct capacity replacement or something bigger if your home demands it. We can also handle upgrades to tankless models as well.

Water heater repair:

Save yourself the cost of an upgrade with water heater repair in Rockford, IL. If there's a problem with your water heater that can be repaired, we're the experts to handle it. We fix pilot lights, anode rod replacements, drain and flush tanks, repair faulty valves and much more.
To schedule a service appointment for your water heater or inquire about new or replacement units, please contact A-1 Affordable Electric & Plumbing today at 815-222-4339. We'll provide you with a free estimate on service and get to work on your water heater as soon as possible.
Don't suffer through another cold shower—call us if you're in Rockford, New Milford, Winnebago County, or Westmoreland, IL today!