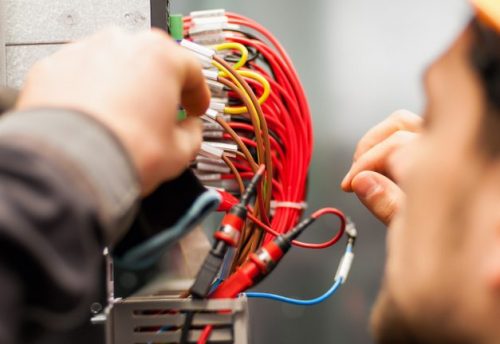 A-1 Affordable Electrical & Plumbing in Rockford has separate openings for an experienced and licensed electrician and plumber. Both positions are full-time and pay up to $30 hourly with the potential for overtime pay. Each job description appears below.
Experienced Electrician Wanted
We have an immediate opening for an experienced, qualified, and licensed electrician to work in our Rockford field office. We expect you to have your own tools and can supplement them with equipment and supplies needed to do the job well.
Job duties include:
Installing electrical wiring in buildings and on poles.
Troubleshooting blackouts and malfunctions.
Diagnosing and repairing electrical appliances.
Connecting wiring to electrical circuits and networks.
Installing, inspecting, and replacing wiring, insulated cables, and other components.
You must have proven experience as an electrician and know the safety procedures, regulations, and guidelines for safe installation and repairs.
The job requires excellent critical thinking and problem-solving abilities. You also must be in good physical condition and capable of working in a variety of weather conditions. You must have a valid license to work as a professional electrician in Illinois. You also should have a diploma in electrical vocational training or have completed an apprenticeship to become an electrician.



Licensed Plumber Wanted

If you are a licensed Illinois plumber who can do anything from fixing leaks to installing pipes and HVAC systems, we want to talk to you. Our Rockford office needs an experienced and qualified plumber to perform a variety of plumbing services for our many customers.




Job Responsibilities and Skills Needed

You must be able to read blueprints and examine drawings to understand how systems work and how plumbing systems, waste disposal units, and water-supply systems work at different locations. You will be expected to cut, assemble, and install tubes and pipes within existing infrastructure and install and maintain water-supply systems.

You must be able to diagnose a variety of plumbing problems and provide rapid solutions for damaged pipes, defective systems, and other problems that commonly occur. You will need to install heating systems, waste disposal and sanitary systems, and repair appliances, like dishwashers and clothes washers.




Job Qualifications

You must have proven experience as a plumber and be licensed in Illinois. A diploma from a trade school or successful completion of a plumbing apprenticeship is required. We expect you to have your own tools but can provide you with more and any needed plumbing supplies.
Are you looking for employment opportunities as a licensed plumber in Rockford, IL?
Becoming a licensed plumber is hard work, so the last thing you want is to struggle to find a job after you've finished your apprenticeship. The good news is plumbers are always in high demand because plumbing problems never stop. At A-1 Affordable Electric & Plumbing, we're usually looking for licensed plumbers to help us take on a larger workload. If you're looking for employment opportunities as a licensed plumber in Loves Park, IL, contact A-1 Affordable Electric & Plumbing to apply today.
Licensed Plumber Employment Opportunity FAQs
If you need electrical or plumbing services, you might have some questions. Here are the answers to some of your most common questions about our services.
Can you upgrade my outdated fuse box? Absolutely! An outdated fuse box isn't just an inconvenience, these old fuse boxes are also safety hazards. A-1 Affordable Electric & Plumbing can upgrade your fuse box to a newer breaker box, so you don't have to worry about electrical hazards or replacing fuses every time one blows.
Do you offer emergency services? In addition to our standard services, A-1 Affordable Electric & Plumbing also offers emergency services. Whether you've got an outlet that's hot or sparking or a burst pipe, we can help you get it fixed before it causes too much damage or puts your safety at risk.
Do you offer free estimates?Of course! If you have electrical or plumbing work you need help with, you can contact us online or by phone to get a free estimate.